How Long Does Water Damage Take to Dry in Silver Lake?
4/3/2023 (Permalink)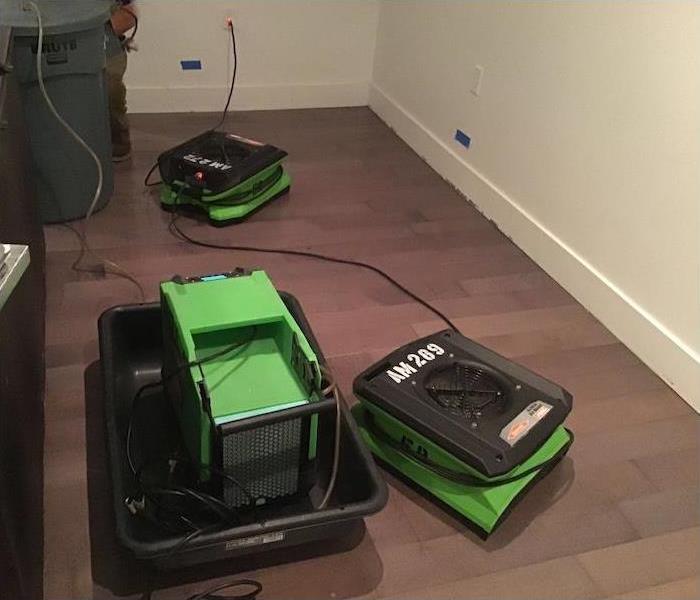 SERVPRO's expert team can quickly dry out your Silver Lake property to prevent further damage and mold growth.
SERVPRO Technicians Mitigate Silver Lake Home Water Damage
Water damage is one of the most ubiquitous home disasters in the United States, regardless of climate or geography. In locales like Silver Lake, homeowners may face potentially costly water damage repair and remediation costs that average as much as $300 for a small-scale ceiling leak. While DIY options are available for property owners, certified professional water mitigation can lower the risk of future damages to structures and contents.
Highly-trained SERVPRO water removal crews respond to Silver Lake disaster calls 24 hours a day because water damage does not abide by a schedule. Mold can grow in as little as one to three days after water damage starts. However, commercial-grade equipment handled by certified restoration technicians can prevent mold from further impacting a home's contents or comfort levels.
Factors That Impact Structural Drying
SERVPRO technicians assess many variables while formulating a water cleanup plan that successfully restores Silver Lake homes. Considerations specific to structural drying include:
Relative humidity. The amount of water present in the air impacts the equipment necessary for drying. Air moisture levels also vary as drying equipment pulls water out of surfaces and into the air.
Disaster scale. The size of the area impacted by water damage and its location is a crucial consideration during planning. A small pipe leak in a living room ceiling requires different accommodations compared to a similar-sized leak behind a wall-mounted bathroom cabinet.
Containment measures. It is possible to reduce structural drying time by using polyethylene sheeting to seal off impacted rooms or areas, thus reducing the workload and equipment.
The Water Damage Restoration and Drying Process for Silver Lake Homes
SERVPRO's structural drying techniques rely primarily on air movers and dehumidifiers working together to gradually isolate water from surfaces and the air for disposal in a treated sewer.
Centrifugal and axial air movers are designed to target different surfaces. The former is ideal for carpet, while the latter is primarily intended for walls and other structural components. These fans typically cover approximately 150 square feet, or 10 to 16 linear feet, of affected space in a home. Water mitigation technicians can also implement air movement underneath flooring or inside wall and ceiling cavities.
Dehumidifiers also vary based on their mechanisms and intended purposes. Low-grain refrigerant (LGR) units are commonly used to dry water damage on porous materials like carpets and sheetrock. Meanwhile, desiccant dehumidifiers can restore hard or nonporous structural surfaces like wall studs or concrete floors.
These drying systems work best after SERVPRO water removal technicians perform thorough cleanup with moisture extraction units, saving surfaces from acute moisture exposure while reducing drying times. After drying, crew members can address lingering microbial growth and water damage malodors with EPA-registered biocides and odor control solutions.
Homeowners can contact the SERVPRO of Silver Lake / Echo Park team at (213) 628-2000. We're Faster To Any Size Disaster for community members in need 24/7.